Picture It Framed is open for business in its charming space at 3071 Dundas Street West
Picture It Framed has specialized in providing high quality and personalized Picture Frames in many Toronto areas like High Park, The Junction, and Etobicoke. We have grown to become Toronto's Picture Frame experts known for exceptional service, unparalleled craftsmanship, and keen attention to detail. We take pride in having skilled and experienced professionals who have the ability to create the most sophisticated custom picture frames. With our years of experience and formal training in the field, our artisans are more than capable of meeting or even surpassing the expectations of our most valued customers.
It is not surprising that our company has acquired an impressive list of clients through the years. We specialize in all types of custom picture framing. Our staff is accommodating, polite, and exhibit a high level of professionalism. By availing our services, you can expect to obtain the highest level of customer satisfaction. So whether you're going to display in your home, office, or personal gallery, we promise to give you the results you deserve.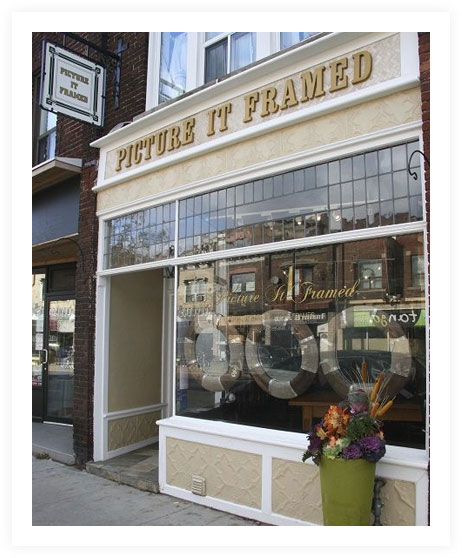 Here are some examples of what we frame small or very large:
3 Dimensional objects
Oil Paintings
Pastels
Watercolors
Charcoal works
Acrylics
All kinds of original artworks
Good quality picture frames are an investment and do require occasional cleaning and care in order to look their best and remain in good condition for years to come. A custom picture framer should be consulted concerning the repair and internal cleaning of your picture framing package. Any buckling of the artwork can be addressed when it is inspected by a Professional Picture Framer. The corners or joints may need regluing if they have been stressed by hanging, or the hanger and wire mechanism may need replacement, we can inspect and repair a good quality picture frame to help lengthen the life of for further enjoyment of the artwork.
Picture Installation and Services
Our recommended picture framing hanging services can pick up, deliver and hang any size or weight of framed picture or mirror for you. Major installations for commercial or home projects can be done to perfection.